Predict the present, change the future
GainX is a powerful technology that gives executives the relevant, reliable, realtime information they need to see and understand an organisation's reality. GainX highlights current issues and predicts future problems before expenses spiral.
Businesses' current lack of clarity costs. Competing systems, duplicate efforts, wasted talent and information blockages stifle growth, cause delay, hurt investments.
But by triangulating people, project and finance data, GainX instantly offers unmatched visibility on all aspects of company performance, including unprecedented insight into human behaviour – the lead indicator of organisational health during times of change.
Our technology operates discreetly in the background, giving executives what they need when they need it. No superfluous noise, no disruption – no significant manpower or resource.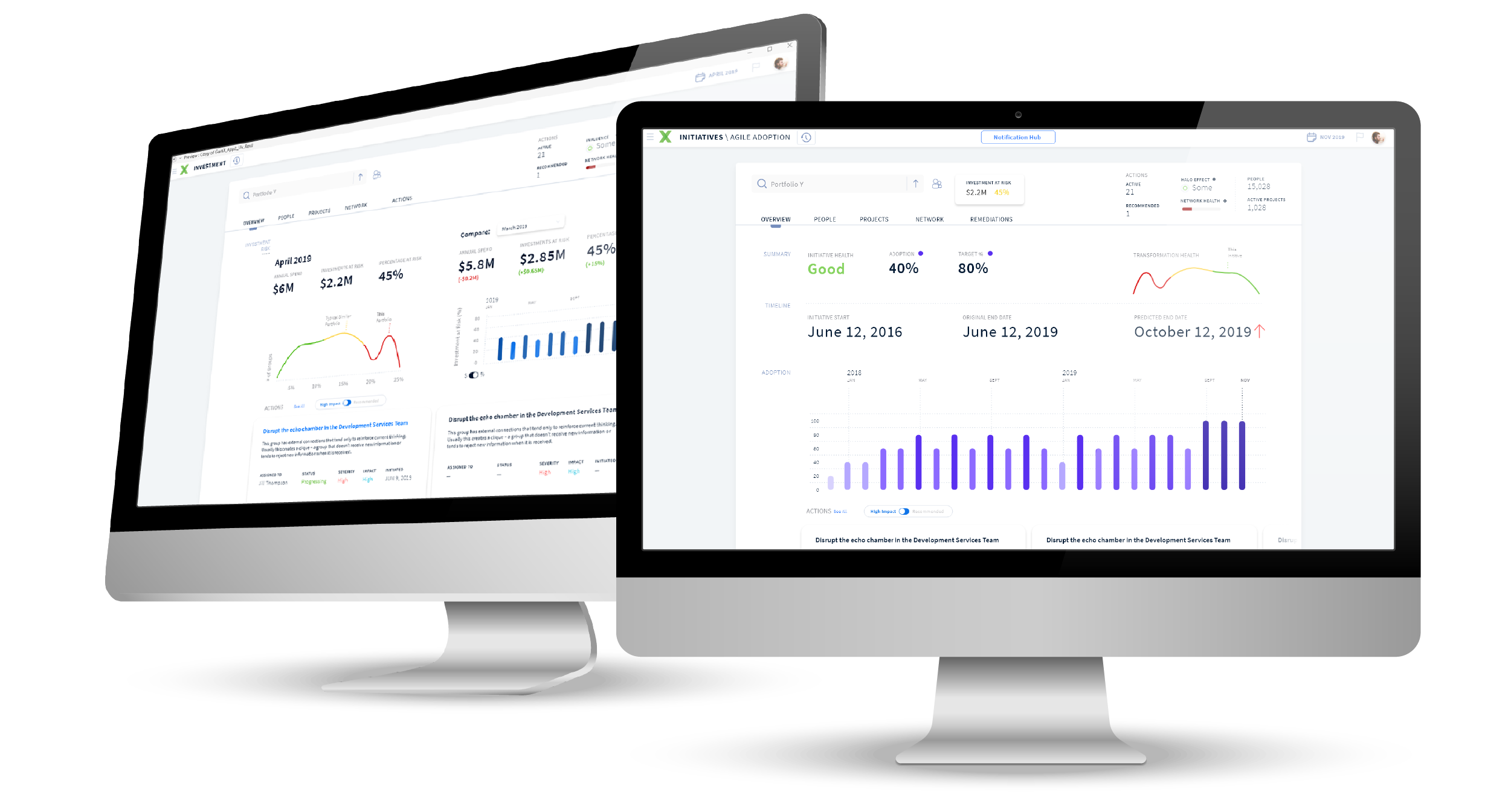 GainX easily and quickly ingests people, project and financial data for unmatched visibility and real time insights on all aspects of a company's performance
Our executive dashboards provide a global view of all strategic investment – showing you what is going well, at risk, and why. The platform drills into critical data in just seconds with the most accurate executive decision support in market. Track the impact of changes and decisions as they occur
The People Lens
Organisational behaviour, influencers, isolation, clay layers, sentiment, and productivity – all quantified by GainX with regards to their impact on your ability to change, deliver, and to compete.
The Project Lens
Whether 100 or 100,000 projects and programmes, GainX quickly identifies duplicative work, distracted projects, high risk investments, high level dependencies and much more.
The Financial Lens
Know if your programmes are really delivering according to planned ROI. Get alerts on duplicative work before it costs millions. Be amongst the first global executives using our artificial intelligence to modernise measures of productivity for deep savings and insights.
We liberate business leaders
At GainX, we help business leaders to see and harness the power of all critical data flowing through their organisation.
Armed with the facts, executives have a bedrock of truth on which to take decisions, build solutions, and invite employees, stakeholders and shareholders to share a stable, confident future.
Progressive big business is essential. It builds strong SMEs and supply chains; vibrant start-up and accelerator scenes; investment and innovation; jobs and opportunities.
GainX gives leaders time and truth on which to strategise, create and bring a better future to life.
BENCHMARK
Sandbox
GainX BENCHMARK provides the most accurate diagnostic in the market and an introduction to our platform. Uncover your actual capacity and ability to transform and unearth historical trends that have a high likelihood of effecting future capabilities.
Track
Focused Analysis
Our standalone enterprise version, TRACK, is deployed for focused analysis in departments, business units, and functions. With or without system integrations. GainX analytics and executive dashboards monitor and report across strategic initiatives identifying risks in people, projects and programs.
Predict
Enterprise
Our enterprise product, GainX PREDICT, gives you advanced predictive capabilities on top of the benefits found in BENCHMARK and TRACK applications. Connected to your enterprise systems, GainX provides deeper what-if scenario planning, real-time metrics, bespoke executive dashboards with reports and insights generated in real time.