Executives using GainX in our New Economy
What's Really Going on in Your Organisation?
Client: Office of the CFO
£725M Strategic Budget
Over 5000 People
Nearly 600 Projects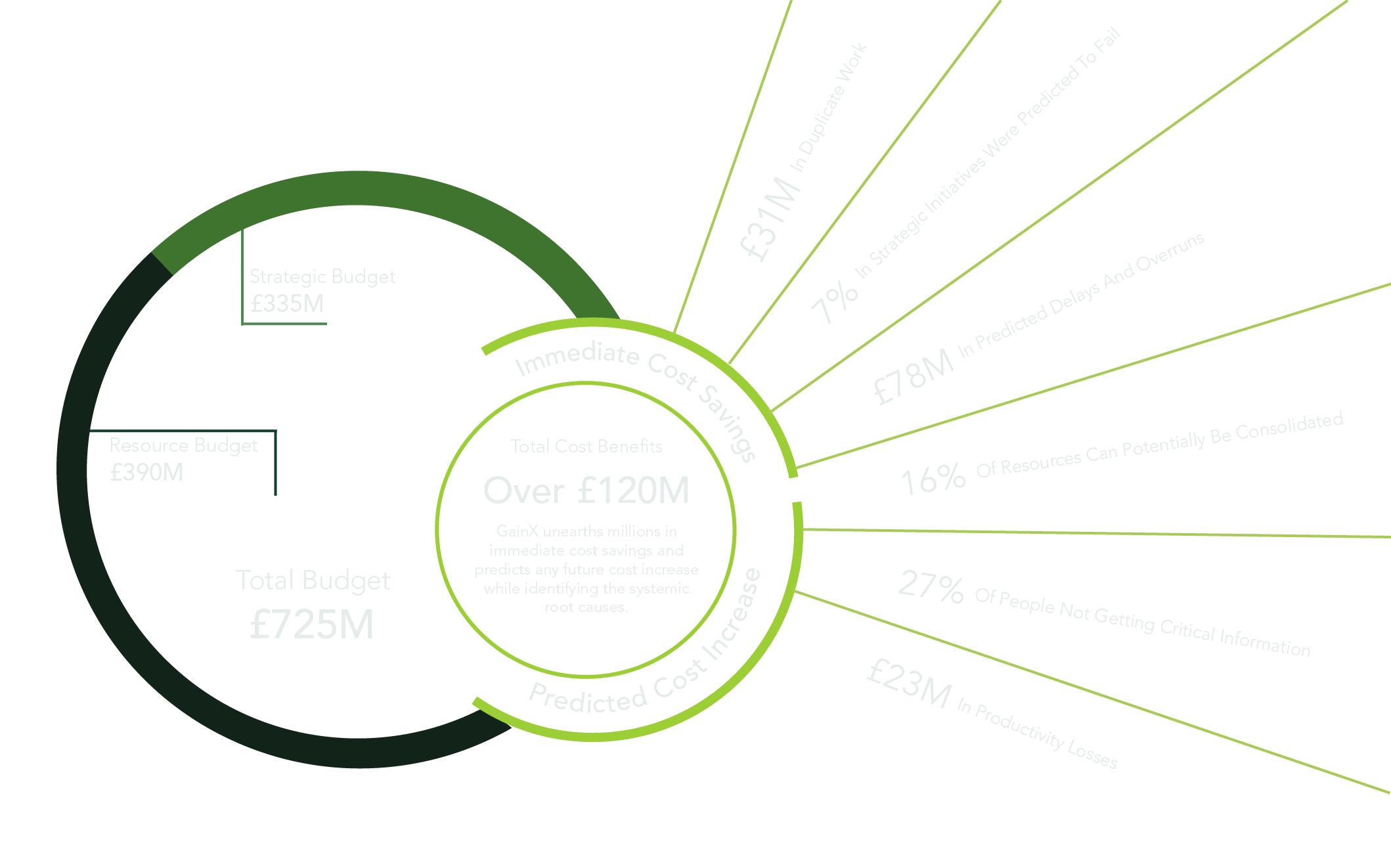 GainX Focus30:
3 Steps, 30 Days, £30K
Step 1: Scope
Define goals, success criteria, & data requirements.
Step 2: Plug-In
Secured on your cloud. Simple & fast plug in to GainX platform.
Step 3: Results
GainX transforms disparate but critical company data into actionable insights, presented in a responsive global dashboard.
No ambitious executive should be without GainX. Its ability to immediately find millions in cost savings and accelerate strategic delivery timelines, often by years, is profound. GainX truly changes how executives can manage their organisation and spend.
C-suite Executive of a Fortune 500 Company
Our CEO Perspective

Pre-pandemic, transformation was incredibly complex, costing £2T a year globally, and increasing year-over-year. Nearly 70% of all transformation efforts failed to achieve targets – that's a lot of wasted company money and diluted ROI.
In 2021, governments and organisations have more debt than they have had since the world wars, and I don't think we've seen the bottom.

Today, the need to change your business operating models and accelerate transformation is non-negotiable. Moreover, the market demands that transformation be underpinned by cutting costs and driving further efficiencies.

This is exponentially more complex and further increases the chance of failure.

In response to the new challenges executives face in 2021, we've made our platform more powerful, more relevant, and much faster.

With GainX Executive Dashboards, leaders can realise tens of millions in total cost benefits while further accelerating change strategies.

GainX is a must-have if you want to effectively navigate the next 3-5 years successfully.
Businesses today must get AI out of the basement and into the hands of their senior leaders. With the incredible advances in AI, design, and networked platforms over the last few years – there is no excuse. The age of the network and AI, the platform, and sophisticated SaaS solutions – is here.